With several factories in Boleslawiec and numerous talented artists designing and decorating, there are thousands of patterns available. The more detailed and colorful patterns, labeled as "Unikat" are unique to a certain artist and will usually have the artist's signature on the underside of the piece. Only after years of study can an artist be elevated to the distinction of a Unikat Artist. When the artist retires, the pattern is usually retired as well, unless they have passed down the pattern to an apprentice. Even then, the apprentice will keep the original idea of the pattern, but change some part to make it his or her own. The price of these Unikat pieces will reflect their limited nature.
Polish pottery pattern availability can change. Here are some of our regular patterns.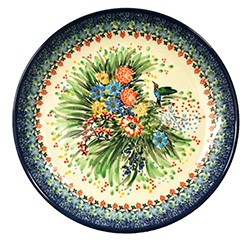 Unikat pottery is unique, different, distinctive, singular, limited, extraordinary. Unikat pottery yells "special"!